Map of the Serbian state under King Stefan Dragutin (1276-1282), covering wide area from the river Neretva on the west to the river South Morava on the east and from the mountain Rudnik on the north to the Adriatic Sea on the south. Coastal area from the city of Skadar to Split.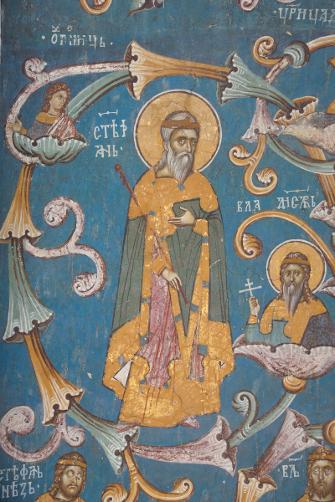 СТЕФ
АNb •
СТЕФАН
STEFAN
Detail of the fresco "Nemanjic Family Tree" from the Serbian orthodox monastery Visoki Decani, Kosovo and Metohija, Republic of Serbia, 14th century.
King Stefan Dragutin (Ruler of Serbia (Raska) 1276-1282 and Srem 1282-1316). Fifth Serbian king of the Nemanjic state.
Silver "scepter" type. 21mm, 2.266g.
Obverse: Crowned Dragutin standing, wearing royal attire and holding a large cross. Large Serbian Cyrillic legend: СТЕФА N РАБ Xꙋ (STEFAN THE SERVANT OF CHRIST) around. 1 + on the left and 2 + signs on the right side.
Reverse: Christ enthroned, holding book of gospels decorated with 5 gems. Greek letters: IC XC (In Greek: Ιησούς Χριστός - Jesus Christ) above. Sigla Λ - R on the sides. 4 triple dotted pellets around the throne.
Reference: Unpublished compare D 13/4 56 and D 13/5 61.
Comment: This is unpublished variant with the "СТЕФА N РАБ Xꙋ" larger then usual description on the obverse and Λ - R maker siglas on the reverse. Dimitrijevic in his book has published similar examples, as you can see below, one with the same Λ - R siglas but the image of the king is slightly different. Crown also seams different, no long hair but short hair and a short tidy beard. No56 has extra H letter on the right side where no61 has b instead of Б and kings name is split СТЕФ АN. There are extra lines just above kings shoulders not found on our example, heads seam wider and both coins are slightly lighter in weight.
Letter ꙋ is made of letters O and U and simply stands for OU or just U.
King Dragutin took the throne of Serbia (Raska) after his fathers Uros I death in 1276. After a riding accident, he abdicated in favor of his brother, Milutin in 1282, but he retained the northern regions of Serbia called Syrmia (Srem) along the Hungarian border. All coins where king is featured with the crown and we have identified at least 4 different crowns, almost certainly are from this first ruling period 1276-1282.
Reference: #DRA08
Not For Sale.
Estimated Value: 500 - 700 - 900
Detail of fresco Loza Nemanjića, Stefan Dragutin (son of King Uros I) Dečani, Serbia. 14th century.