Belgrade Fortress consists of the old citadel (Upper and Lower Town) and Kalemegdan Park (Large and Little Kalemegdan) on the confluence of the River Sava and Danube in an urban area of modern Belgrade, the capital of Serbia. It is located in Belgrade's municipality of Stari Grad.
The original military camp was probably occupied by the soldiers from the Legio VIII Augusta from 46 AD to 69.
The Byzantine Emperor Justinian I rebuilt the fortress around 535. The name Belgrade (or Beograd in Serbian), which, not just in Serbian but in most Slavic languages, means a "white town" or a "white fortress", was first mentioned in AD 878 by Bulgarians.
The Hungarian king Béla I gave the fortress to Serbia in the 11th century as a wedding gift (his son married the Serbian princess Jelena), but it remained effectively part of Hungary, except for the period 1282–1319.
After the Serbian state collapsed following the Battle of Kosovo, Belgrade was chosen as the capital of Despot Stefan Lazarević in 1402. Major work was done to the ramparts which were encircling a big thriving town. The lower town at the banks of the Danube was the main urban center with a new built Orthodox cathedral. The upper town with its castle was defending the city from inland. Belgrade remained in Serbian hands for almost a century. After the Despot's death in 1427, it had to be returned to Hungary. An attempt by the Ottoman Sultan Mehmed II in 1456 to conquer the fortress was prevented by Janos Hunyadi (Siege of Belgrade), saving Hungary from Ottoman dominion for 70 years.
In 1521, 132 years after the Battle of Kosovo, the fortress, like most parts of the Serbian state, was conquered by the Turks and remained (with short periods of the Austrian and Serbian occupation), under the rule of the Ottoman Empire until the year 1867, when the Turks withdrew from Belgrade and Serbia. During the short period of Austrian rule (1718–1738), the fortress was largely rebuilt and modernized.
It witnessed the Great Serbian Migration in the 17th century and two Serbian Uprisings in the 19th century, during the Turkish Period.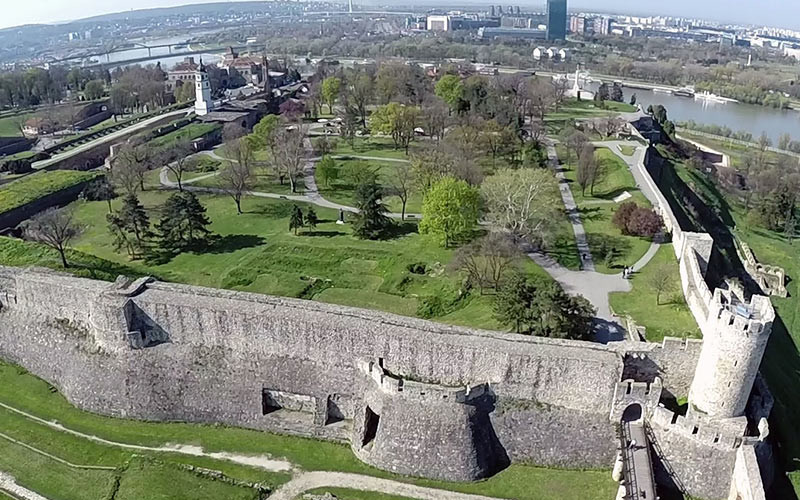 Especially close to my heart as that is where my wife said yes when i asked her to marry me!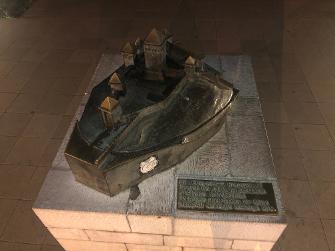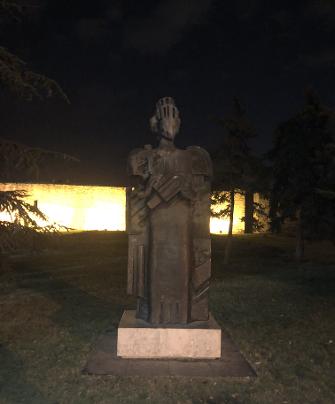 Smederevo is a medieval Serbian fortress, 15th century. It was one of the biggest fortresses in the Europe, 550 x 502 x 400 meters with 25 towers.
The Smederevo Fortress is a medieval fortified city in Smederevo, Serbia, which was temporary capital of Serbia in the Middle Ages. It was built between 1427 and 1430 on the order of Despot Đurađ Branković, the ruler of the Serbian Despotate. It was further fortified by the Ottoman Empire, which had taken the city in 1459.
The fortress withstood several sieges by Ottomans and Serbs, surviving relatively unscathed. During World War II it was heavily damaged by explosions of German ammunition stock and English bombing. The fortress remains "one of the rare preserved courts of medieval Serbian rulers."
Smederevo Fortress was declared a national Monument of Culture of Exceptional Importance in 1979. In 2010, the fortress was placed on the tentative list for possible nomination as a World Heritage Site (UNESCO).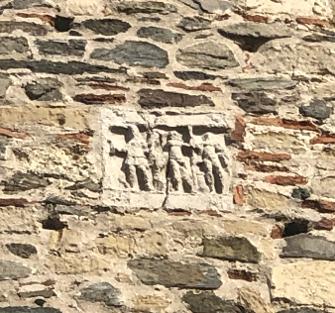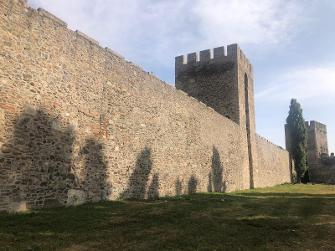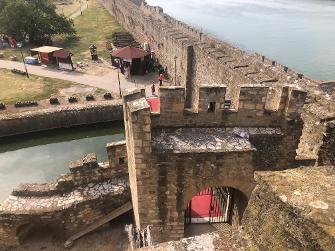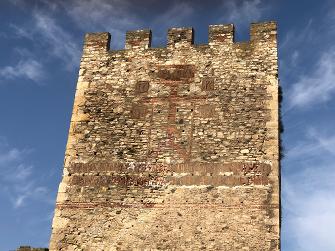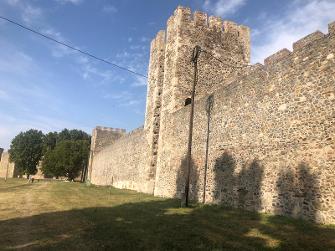 Remains of Medieval Serbian Užice fortress, built in 14th century, located in western Serbia.
Strong castle is positioned on a large steep cliff and surrounded on three sides by the river Đetinja.
Unfortunately, the walls were destroyed in 1863 according to the peace treaty when the Ottoman Turks, who were stationed there since the fall of Medieval Serbian kingdom in 15th century, left the fortress.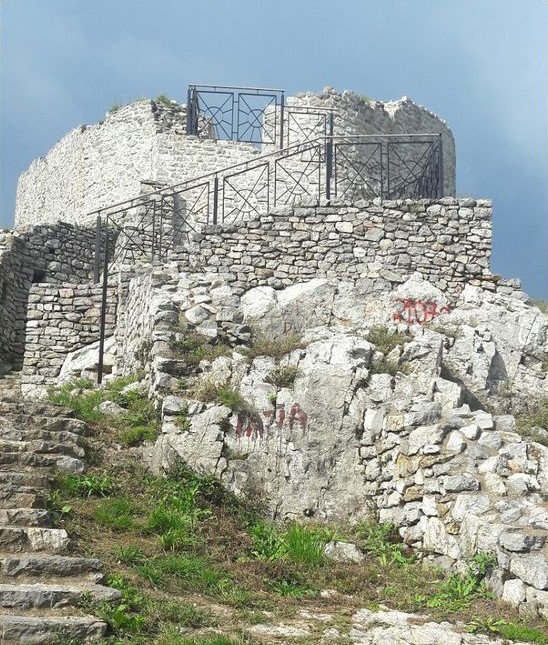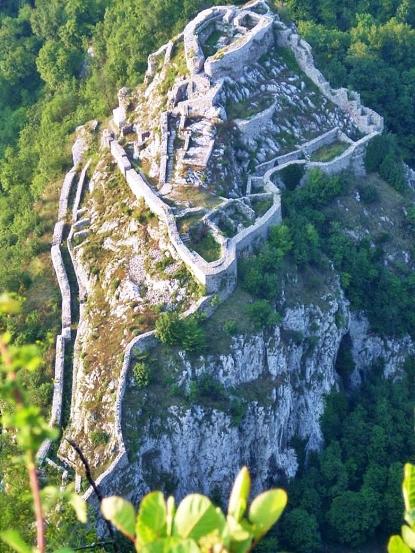 The existing Nis fortress fortification is of Ottoman origin, dating from the first decades of the 18th century (1719–1723). It is well known as one of the most significant and best preserved monuments of this kind in the mid-Balkans.
The Fortress was erected on the site of earlier fortifications – the ancient Roman, Byzantine, and later Medieval forts.
During World War I it was occupied by Bulgarians who turned it into a prison where Serbian patriots were imprisoned.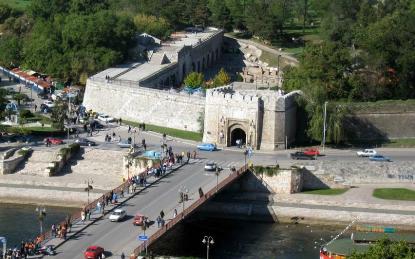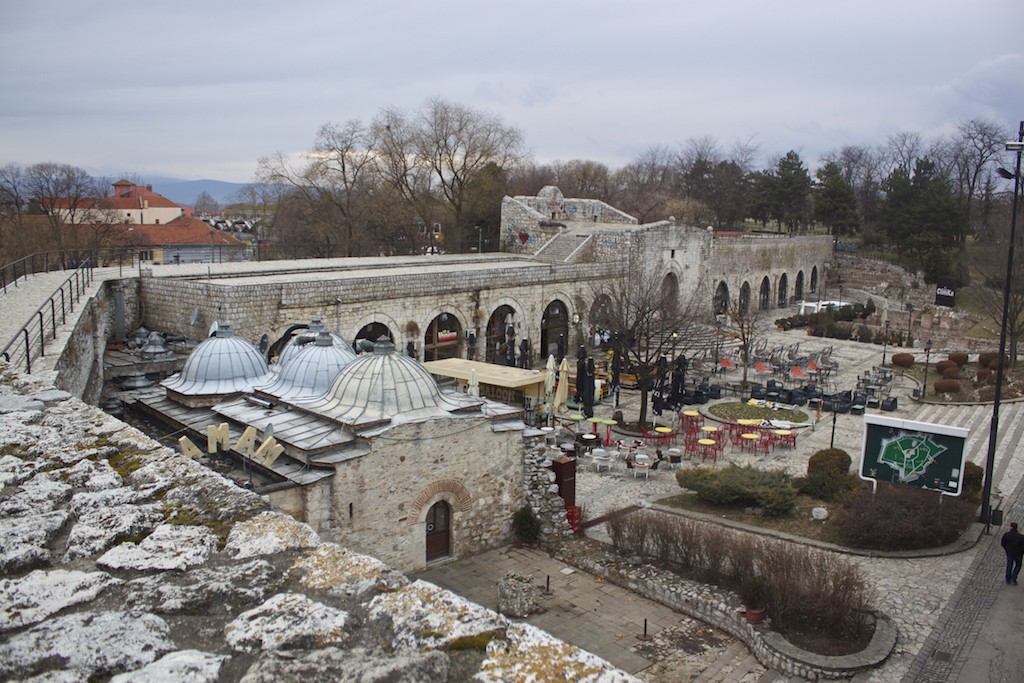 Medieval fortress Soko grad (Falcon castle), vicinity of Sokobanja, eastern Serbia.
The fortress was founded in the 6th century during the reign of Byzantine Emperor Justinian I. In 1172 it was conquered by Serbian ruler grand prince Stefan Nemanja and became part of the medieval Serbian state.
These walls are from 12th-14th century.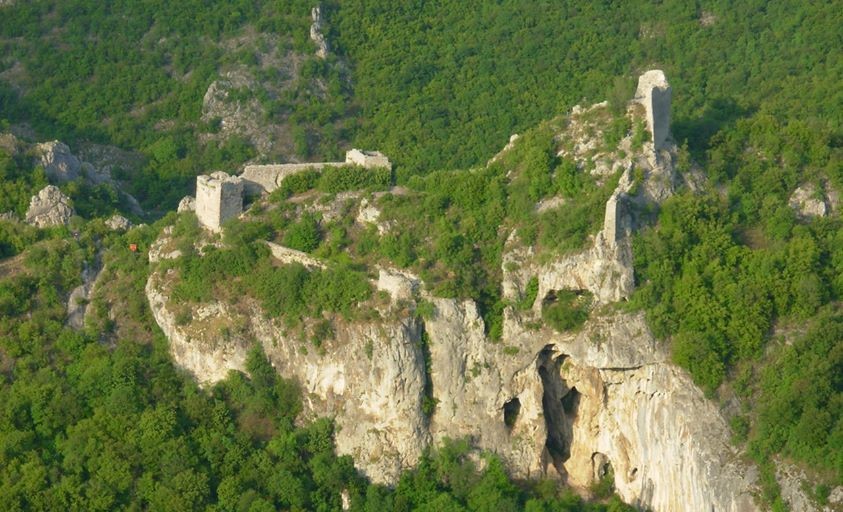 Medieval Serbian fortress Golubac located on the right bank of the Danube river, eastern Serbia, built in 14th century.
Fortress has 9 towers and 2 gates, and it was once surrounded by a civil settlement.
During the late Medieval period it has been site of many battles between Christian armies from all Europe and invading Ottoman Turks. During the recent reconstruction workers found numerous arrowheads stuck on the walls, remainders of long gone sieges.


Tower below right is called the Tower of king Dragutin.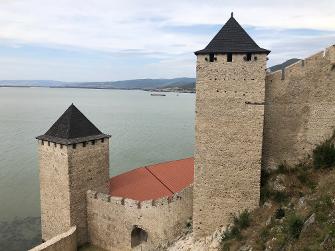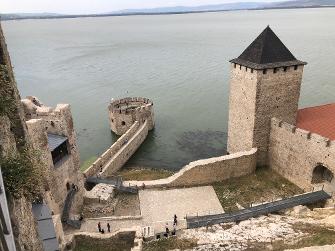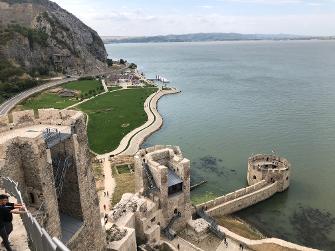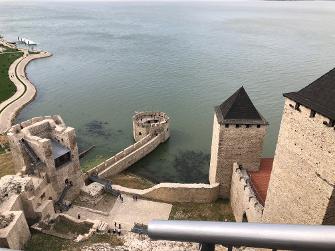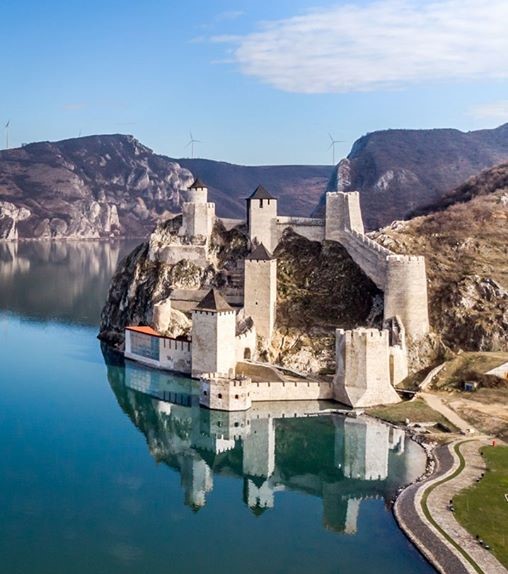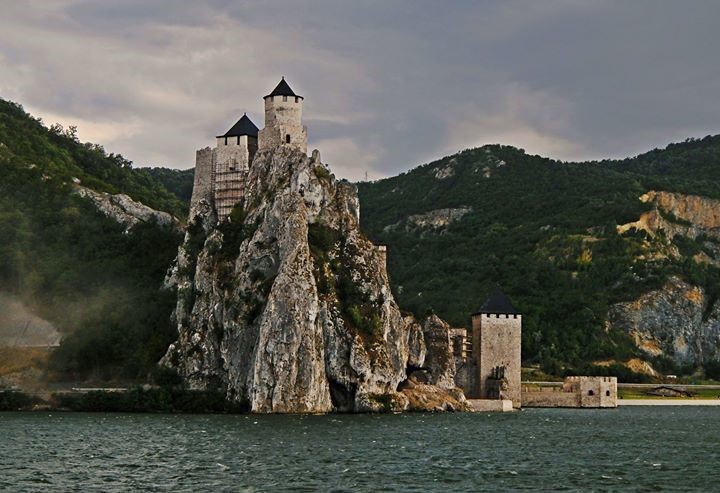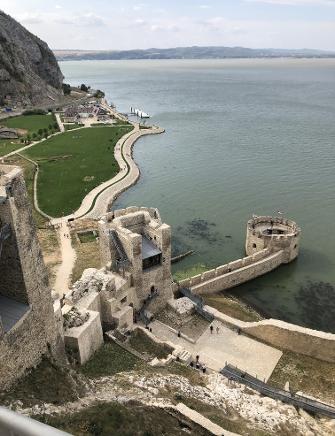 Medieval Vršac castle, built on a hill just outside town Vršac in Banat region, Vojvodina, northern Serbia.
It was founded by Hungarian King Bela IV in 13th century after Mongolian invasion.
At the beginning of the 15th century castle was controlled by Serbian rulers, despots from Lazarević and Branković families.
Ottoman Turks conquered it in 16th century, and it was under their control until the end of 17th century, when Austrian empire expelled the Turks from the southern Hungary and Pannonian plain.
Although the castle was founded in 13th century, it was strengthened and expanded in later centuries under Hungarian and Serbian rule.
Besides defensive walls and large keep, it had one smaller tower, water tank and a palace. During excavations, archaeologists have found pottery, jewelry and weapons.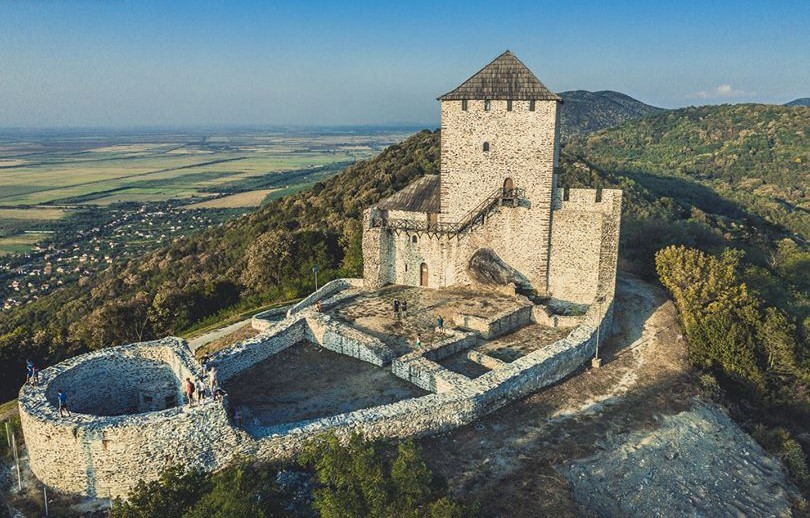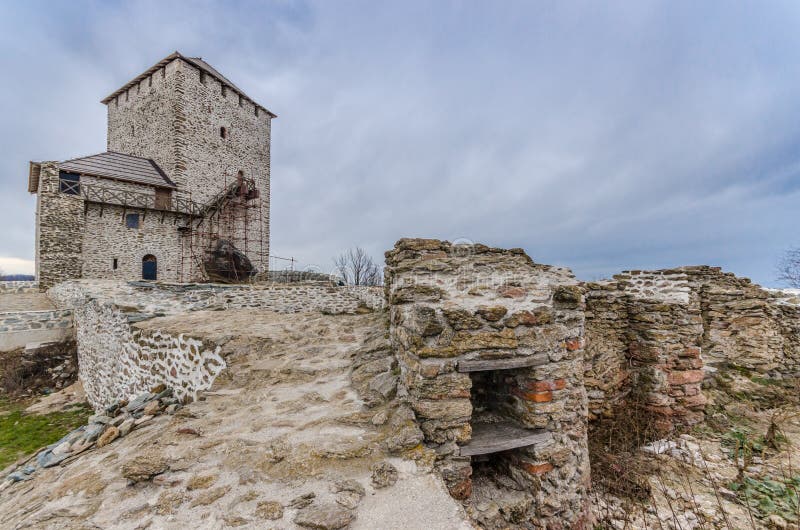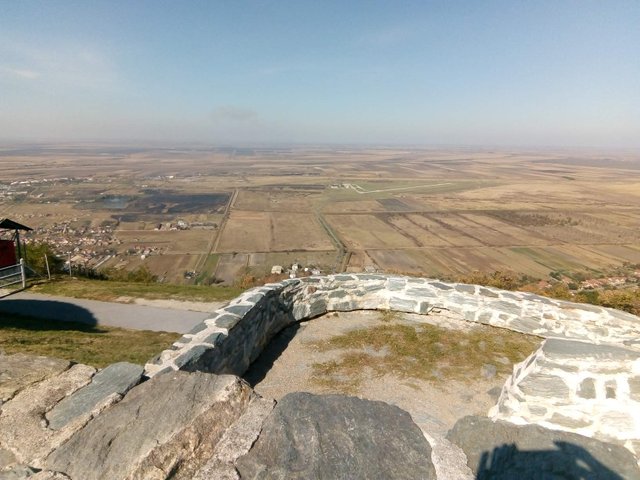 Medieval Serbian fortress Maglič built in 13th century on the top of the hill in valley of the Ibar river, vicinity of Kraljevo, central Serbia.
Maglič is one of the best preserved and one of the finest examples of the Serbian medieval fortifications, built along the important Medieval roads for protection and control of traffic and trade.
Fortress has 7 towers and a hexagonal dungeon tower (keep), and inside there are remains of a palace, military barracks, church of Saint George, a large water reservoir and a well. During the Serbian empire in 14th century it was the seat of Archbishop Danilo II, who wrote some of the most famous Medieval Serbian literary works.
The exact time of construction of the Maglič Fortress is unknown, but the stronghold probably existed during the Byzantine rule in this region.
Maglič was rebuilt in the 13th century by King Stefan Prvovenčani (the First Crowned) or his son Uroš I, on a high rock surrounded from three sides by inaccessible steep mountain sides and the Ibar River, in order to defend the nearby monasteries of Žiča and Studenica and provide control over the Ibar valley.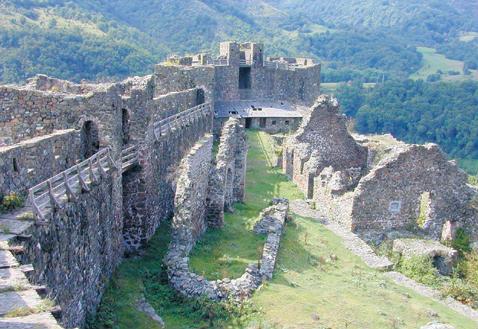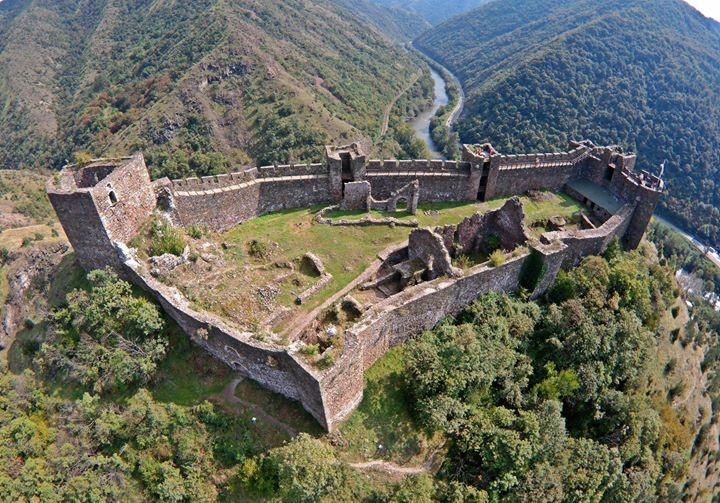 Remains of the citadel and royal court at Ras fortress, one of the capitals of the Medieval Serbian state, located near Novi Pazar, south-western Serbia.
These walls are from 12th-13th century, but they were built above remains of older Roman and Byzantine fortresses.
For some time, during 12th and 13th centuries one of the royal courts of Serbian rulers from Nemanjić dynasty was in this fortress. Archaeologists have found remains of many public buildings there, including large granary, well, coinage mint, military barracks and workshops. Also, they have found numerous pieces of weapons, tools, coins, jewelry and other objects for every day use.
Near Ras fortress there are many important archaeological sites, such are fortresses, remains of settlements, churches and monasteries, significant for Medieval period of Serbian history.
The fort was built at the same time as Kruševac, by prince Lazar of Serbia. The town was built on a wide plateau - a strategic place that controlled westward communications.
For the first time Stalać is mentioned in 1377 in a charter of prince Lazar, and later in a charter of princess Milica in 1395. Philosopher Constantine of Kostenets, mentions that in 1413 Musa Çelebi raided Stalać.
After these sufferings, Stalać is not mentioned anymore, neither in Turkish nor Hungarian sources on their respective military campaigns. It must be that the fortification was no more in use or worth mentioning.
During his voyage in 1433 Bertrandon de la Broquière mentioned Stalać and its ruins in his notes.
Felix Kanitz also left a note on Stalać, as he traveled through these regions in the middle of 19th century.
Borač (Serbian Cyrillic: Борач), also known as Borač na Kršu is a medieval town and fortress. The remains of the Borač fortress lie on top of a rocky hill 10 km northwest of Knić.
Although the town of Borač existed as a center of a Serbian župa, or a district since 12th century, the fortification was first mentioned in the records from 1389 as a residence of princess Milica after the death of her husband, prince Lazar of Serbia in Battle of Kosovo earlier that year.
Despot Stefan Lazarevic promulgated a charter to the people of Dubrovnik in borač in 1405. In that period, it was one of the most significant fortifications in the dominion. After the fall of Belgrade and Golubac, whilst building Smederevo, despot Đurađ Branković additionally fortified Borač.
In 1438, the fortress was conquered and razed to the ground by sultan Murad II.
Church of Saint Archangel Mihailo in the village of Borač.
Remains of Medieval Serbian castle Koznik built in 14th century on the slopes of the Kopaonik mountain, vicinity of Brus, central Serbia.
Fortress has 8 towers, and archaeologists have found remains of 2 gates and one church within defensive walls.
Time of foundation is uncertain, but according to fragments of stone reliefs found among remains of Medieval church, the fortress was most likely built in 14th century. Reliefs belong to Morava artistic style, which developed in late 14th century, and flourished until the half of 15th century when Ottoman Turks conquered Serbia.
At the beginning of 15th century it belonged to famous Serbian knight Radič Postupović.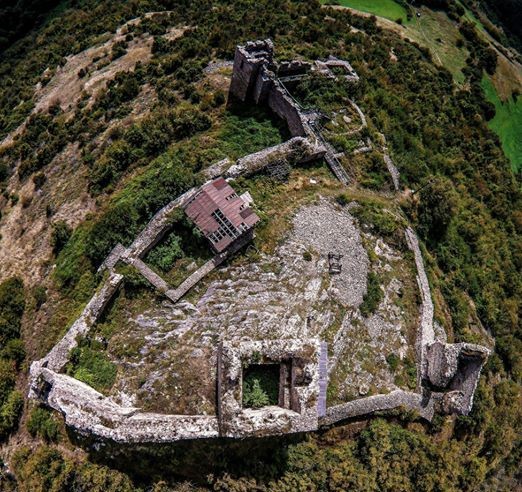 Remains of the citadel at Novo Brdo, most important trade and mining center of Medieval Serbia during 14th and 15th centuries, Kosovo and Metohija province, present-day southern Serbia.
Novo Brdo was one of the most important urban, mining and trading centers of Medieval Serbia and Europe, famous for exploiting gold and silver ore. Castle has 8 towers, and several archaeological excavations revealed remains of many significant buildings, such as churches and palaces, and numerous interesting findings, such as pottery, jewelry, weapons and objects for everyday use from the Medieval period.
The town even had its own Codex which regulated mining activities and organisation and social life in Novo Brdo.
This town was one of the main centers of jewelry production in Medieval Serbia.
Besides local masters, jewelers from Byzantine empire and Adriatic coast have worked there, producing beautiful pieces of jewelry, under both Byzantine and western European influences, as well as local traditions.
Late Medieval Ram fortress, build in 15th century by Ottoman Turks at the right bank of Danube river in vicinity of Veliko Gradište, eastern Serbia.
Fortification consists of defensive walls and 5 towers and inside there are remains of Roman tower or prison. Fortress was designed to withstand cannon warfare.
Turks build this fortress over the remains of earlier ancient Roman structures and Medieval fortifications.
Picture below is Roman plate carved in rock situated under fotress.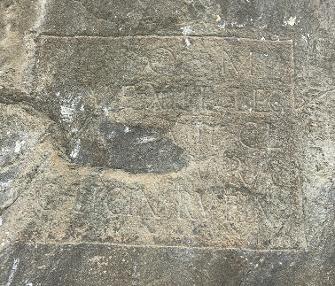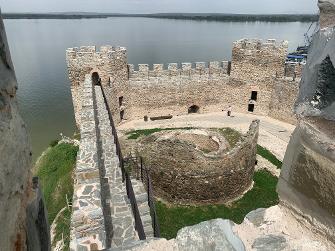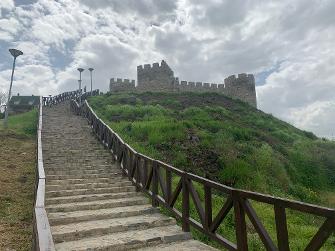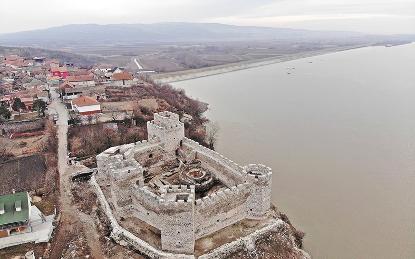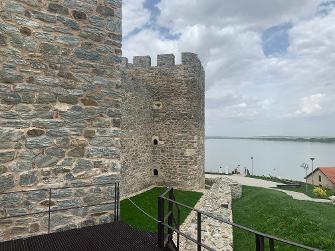 Medieval Serbian monastery Manasija surrounded by a strong castle, located in central Serbia, built in 15th century between 1406 and 1418 as an endowment of Serbian ruler despot Stefan Lazarević.
Castle consists of 11 towers, strong defensive walls and a gate and it was built as a defense against invading Ottoman Turks.
Inside the complex archaeologists have discovered remains of many medieval buildings with numerous valuable findings, including Medieval pottery, stone decorations and objects for every-day use.
Monastery is famous for its beautiful frescoes and manuscripts, and in 15th century it had a library with more than 20 000 books.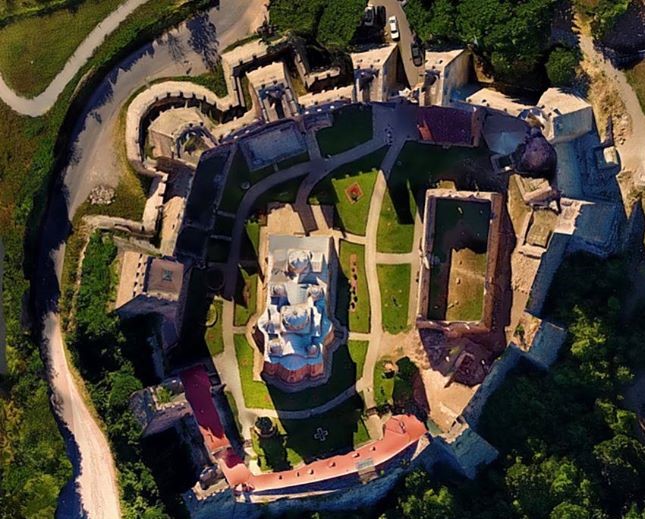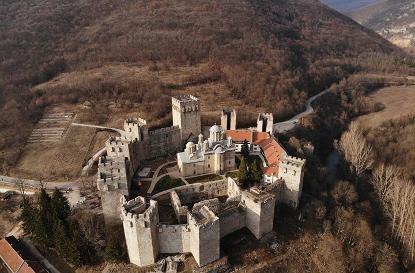 Medieval Pirot castle, built in the 14th century.
Medieval core of the fortress consisted of two areas - small citadel, surrounded with a wall with strong towers. On its accessible side, the fortress was protected by frontal line of fortification which had to be passed through to reach the main gate.
In a later epoch, probably in 18th century, the fortress construction was extended onto a field next to the river, and surrounded with a rather weak bulwark with two rows of loopholes.
Castle is located within the city area of modern Pirot in south-eastern Serbia.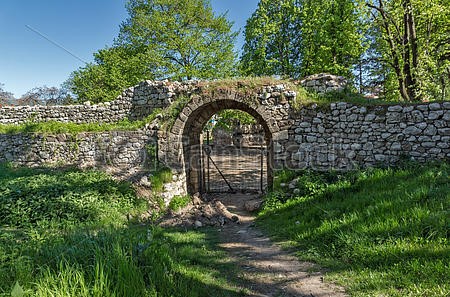 Ostrvica or Ostrovica was a small fortified town built on one of the peaks of Rudnik mountain, 4 kilometres (2.5 mi) northwest of the town of Rudnik.
After 1323/1324, when it was recorded for the first time, it belonged to the Kingdom of Serbia, Serbian Empire, Moravian Serbia and Serbian Despotate.
During the 14th and 15th centuries the people of the region and merchants from Dubrovnik used Ostrovica castle as a haven during wars, first in 1323–1324 during the war between Stefan Dečanski and Stephen Vladislav.
In 1398 Nikola Zojić , a governor of Ostrovica, retreated to Ostrvica after the failure of his attempt to overthrow Stefan Lazarević and to establish direct vassalage to the Ottoman Empire. Zojić took monastic vows to avoid the death penalty. In 1414 voivode Mazarek is mentioned as a governor of Ostrvica and Rudnik.
Ostrvica was captured by the Ottomans several times, first in 1431 and again in 1438. The Serbian despot recaptured it in 1443 during the Crusade of Varna but the Ottomans captured it again in 1444, only to be restored to Serbia later in the year. Branković and Eirene used Ostrovica as their summer retreat and had a mint in the castle.
When the Ottomans captured Ostrvica in 1451 they razed it to the ground. This was against the order of Murad II.
Evliya Celebi described Ostrovica as the "town of Rudnik". He explained that it was founded by the Serbian King Miloš, captured by Ottomans, recaptured by Christians to be captured again by the Ottomans on 19 May 1521.
The first certain mention of this town was in the second half of 13th century, but it was without a doubt built much earlier. Its position indicates that it had the most importance in pre-Nemanjić era of Serbia.
The area which Jeleč dominates, was on the frontier towards Bulgarian and Byzantine lands during the early power struggles involving Serbia in early medieval period.
During the reign of Stefan Nemanja it was a center of župa, a term for a district in medieval Serbia. It is believed that some rulers used Jeleč as their estate.
In 1282 it was Jeleč where Stefan Dragutin broke his leg while hunting and became ill, he passed the throne to his younger brother Stefan Milutin at the council at Deževo in 1282. When the aspirations of the Nemanjić to expand south came to fruition, starting with the reign of Milutin, the fortification saw its military value decrease due to being deep in inner Serbia and isolated on a mountain peak.
During the fracturing of the Serbian Empire, it was first under the realm of Vojislav Vojinović, then his nephew Nikola Altomanović, and finally the house of Branković.
Srebrenik Fortress is a fortress located near the town of Srebrenik in Bosnia and Herzegovina.
Srebrenik Fortress is Bosnia's best-preserved medieval castle, dating from 1333. It is located in the outskirts of Srebrenik.
The castle was occupied by the Ban of Bosnia Stefan II Kotromanić until his death in 1353. It was once considerably larger but some of its walls and structure have since collapsed. Also it is known for a document called "Povelja of Stefan II Kotromanić" in which Stefan gifts islands around island of Labin to Republic of Dubrovnik which is controversial by many residents in Srebrenik.
Gradina is the birthplace of Tvrtko I Kotromanić first king of MedievalBosnia.
After the death of Stefan II Kotromanić the Fortress got inherited by a distant relative from Stefan II. He died in 1378 and the Fortress has been abandoned ever since.