King Stefan Vladislav II (1321-1324), silver dinar, Rudnik mint
Obverse: Crowned King standing, holding cruciform scepter, Serbian legend: PAБb XOU ВΛ АДHСЛАВb ("Servant of Christ, Vladislav"). Initials Λ on the left and reversed B on the right.
Reverse: Christ enthroned, holding Book of Gospels, IC XC ("Jesus Christ")
Reference: Jov 9-1.1, D 17.3, I 4.1, Lj III-21
Comment: Coin is issued during his rule as a king. Extremely rare and hard to find coin. Cracked but with excellent detail on both sides, natural toning and a lovely patina. A real gem in Serbian numismatics.
Only 22 registered examples.
Possibly named after King Stefan Radoslav younger brother King Stefan Vladislav I (1234-1243).
Reference: #VLA02
Not For Sale.
Price: £850-£1000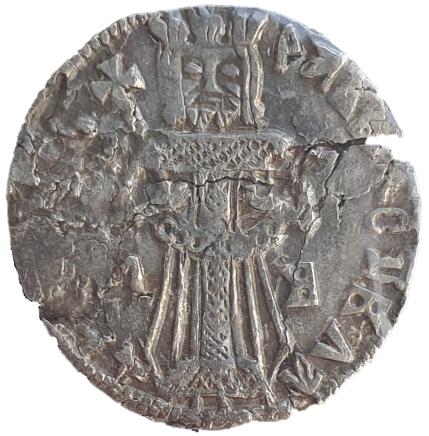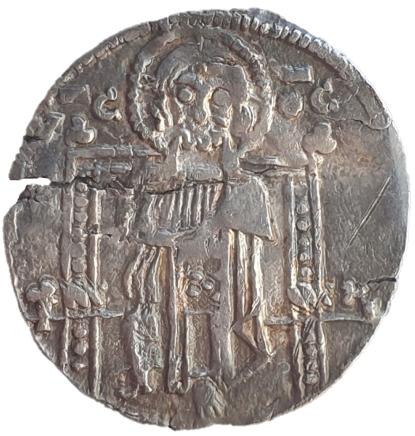 Stefan Vladislav II (1316 / 1321-1324), Silver Sword Coin, Grosso, 1.8g
Obverse: Bare-headed King is sitting on the throne holding sword across his lap. Latin Legend MONETA RE·-·GIS STEFAN ("Money of the King Stefan")
Reverse: Christ enthroned, facing; to left, IC, to right, XC. ("Jesus Christ")
Reference: LJ (V-20,21), J (6), I (2.4.1) D (12.42)
Comment: Born in 1280 and died in 1325. Since the King is featured without crown and Stefan name is used on the coin it is debatable but possible that this coin was issued by Vladislav II in 1316 when he took over the rule of Srem from his father King Dragutin. Some conclude that coin is the example of the coinage of King Dragutin but absence of crown makes a strong case for Vladislav II.
Only 35 registered examples.
Reference: #VLA01
Not For Sale.
Price: £250-£350
For a single or multiple purchases we will charge a fixed £16.95 registered sign for tracked postage.
Please use Contact Us page to make an order or request more information.