In the program "Čačkalica", guest Raško Ramadanski, curator at the museum Bečej, is talking about king Stefan The First Crowned matapan type coins similar to Venetian matapan coins, possibly minted as early as or before 1214 as that is when Serbian trade andmoney is first mentioned in a document dated 1214, which goes in line with our research and work.
And a new discovery by my friend and colleague Raško Ramadanski of a first Serbian coins minted by a Earl John (Jovan) Vladimir the ruler of Duklja (today area of modern Montenegro and north Albania) the most powerful Serbian principality of the time, from around 1000 to 1016, also in line with the research by my friend and colleague Robert Kavazovic, first 2 images below provided by him. Last one was sold on Roma Numismatics London auction in 2017 for £2000 plus auction fees. It was found on the border between Montenegro and Albania which is exactly the location of medieval Duklja state and sold to Italian buyer who then brought it to London auction house.
Ramadanski, Kavazovic and a Dr. Vladimir Ovcarov from Bulgaria have all, simultaneously but separate from each other, arrived to the same conclusions and at the same time.
Ruler is featured without crown and without REX royal title holding cross and a scepter pointing out to his rule as a prince or earl and not king. On the reverse there is cross in the middle and letters BLADIMIRVS (VLADIMIR) around. Cyrillic B and rest of the description in Latin.
First copper coin is 18,5mm, 2,04g and third one from auction is 20mm, 2,59g.

There were 2 other Vladimir rulers, Bulgarian and Russian, but as they both used Cyrillic description on their coins with royal references and Bulgarian ruler was against Christianity so he wouldn't use cross on the coins, these coins below are almost certainly from a Serbian ruler.
Jovan Vladimir potentially minted first Serbian coins and is first Serbian to become saint in Roman Catholic church and is a first saint in Serbian Orthodox church.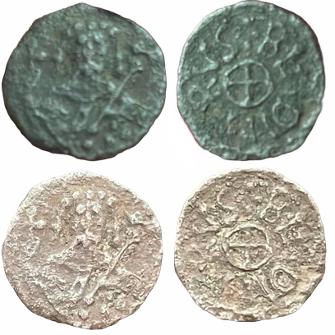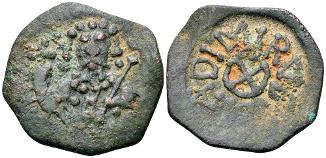 Fascinating collection of coins in Peoples museum Belgrade Serbia.
This YouTube video contains some of the coins from our Serbian medieval coin collection from king Stefan Radoslav 1228-1234 to the king Stefan Tomasevic 1461-1463. Nearly 250 years of rich history and amazing coin design and variety.